Have you ever wondered what the hype about tea is?
Perhaps you have tried it a few times and just weren't impressed by the taste.
Still, you may want to get into the habit of drinking tea.
This could be for weight loss purposes, to improve your health, or to simply reduce your coffee intake.
However, if you aren't the biggest fan of tea, how can you convince yourself to drink it on a regular basis?
Well, this is where the best tasting teas come in.
Not all teas have to be astringent or grassy. No, a lot of them can boast delicious and refreshing flavors.
If you are interested in learning more about this, let's get started!
Why Do Some People Dislike Tea?
For some individuals, drinking tea is much like tasting wine.
They are able to enjoy the aroma, flavor profile, and liqueur of every sip.
Even those with less refined palates, like tea because it is cozy or refreshing.
Then, there are others, who think that tea tastes much like leaf water.
So, what is up with this discrepancy?
Well, it could be genetic!
You may simply have the genes that cause you to prefer coffee or some other beverage over tea.
Of course, there is another (more likely) reason – you simply haven't found the right tea for you.
If so, this wouldn't be surprising at all.
Even if you are just sticking with the true teas, there is plenty for you to choose from.
White, green, oolong, black teas all have subtypes that each have their own, distinct taste.
Then, when you move onto the flavored teas, your options of tea open up even more.
And, if you count herbal teas, your opportunities are essentially endless!
So, on this note, don't give up just yet. You can still find a tea for people who don't like tea.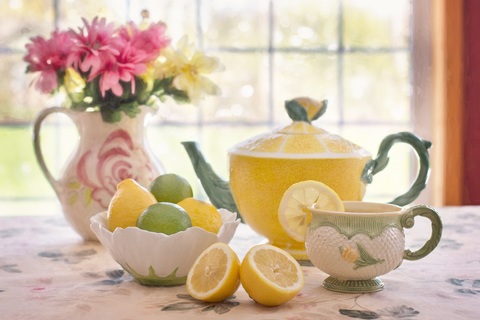 Is There a Best Tasting Tea in the World?
Now, you may be wondering if all of your problems could be solved if you simply looked around for the best tasting tea bags or loose leaf tea.
Would you then be able to enjoy the taste of tea?
Not necessarily.
Understand that taste is subjective. So, what may be pleasing to one person can taste downright terrible to another.
Thus, it is far better for you to find a tea that is perfectly suited to your taste buds.
After all, at the end of the day, all that really matters is that you are enjoying your tea.
Related Articles
Here's Your Guide to Find the Best Tea Brands on the Market
How to Choose the Best Tea for Non-Tea Drinkers?
Now, let's take a look at how you can select the best tea for new tea drinkers:
Great Tasting Herbal Teas vs. Flavored Teas
You will need to first decide if you would enjoy herbal teas or flavored teas more.
Herbal tea is a category of beverages made from infusions or decoctions of leaves, flowers, stems, and roots from various plants.
The exact health benefits will depend on the plant that you are using.
Flavored teas, on the other hand, are true teas that have been infused with fruity, spicy, or sweet flavors.
The benefits of these teas are often the same as those of their true tea bases.
Flavored teas often have caffeine while herbal teas do not.
Herbal teas may be a more suitable option for people who genuinely don't like the taste of true teas.
Take Note of Your Preferences  
Even once you have narrowed your choices down, you still have to figure out teas you will enjoy the most.
Look to preferences in your typical diet to figure this out.
Do you enjoy savory foods? Then you may want to look for spicier teas like those with hints of cinnamon or perhaps turmeric.
In case you have a sweet tooth, look for ones that have fruity or floral bases.
Opt for High-Quality Teas
Quality matters with herbal teas and flavored teas as well.
In the case of herbal teas, they can be safer for you.
With flavored teas, premium options can taste better.
This is because they would have used improved techniques to flavor the teas, resulting in a more authentic flavor.
Experiment
At the end of the day, the only way to find a great tasting tea is to experiment.
Go ahead and sample as many different types and flavors as you possibly can.
It is only through trial and error that you will be able to truly test your palate and narrow down the right flavors for you.
Best Flavored Teas and Herbal Teas
These are some great tasting teas for all palates:
Sale
Celestial Seasonings Black Cherry Berry Herbal Tea
If you want something that sweet, fruity, and healthy, then this is the option for you!
What We Like:
Deliciously Sweet: this is a fruity and sweet treat that is particularly delightful during the summertime. Despite its flavor, there isn't even an ounce of sugar in it!
Strong Flavor: a single tea bag produces a rather strong flavor. As such, you can make iced tea without worrying about diluting the flavor. 
Natural Flavors: the flavors are natural, allowing for a more authentic taste.
What We Don't Like:
Rare Flavor: this can be a rather rare flavor, making it difficult to find at times.
Bigelow Vanilla Caramel Black Tea
Want a cozy, soothing drink? Then you should definitely brew up one of these bags.
What We Like:
Great Taste: this tea tastes just like dessert! The profiles of the vanilla and the caramel really shine through. Adding milk only boosts the flavor further.
Easy to Brew: this tea is quite easy to brew and is ready in a couple of minutes.
Calorie-Free: there are absolutely no calories despite the indulgent taste.
What We Don't Like:
Artificial Flavors: the tea does contain some artificial flavors.
Twinings of London Pomegranate and Raspberry Tea
Want to brighten up your green tea? This is the ultimate way to do it!
What We Like:
Refreshing Flavor: the raspberry and pomegranate flavors meld together beautifully, creating a refreshing drink that is great hot or cold.
Strong Brew: just a single tea bag can produce a strong brew. Thus, there is no need to worry about a too-subtle flavor.
Natural Flavors: this tea contains natural flavors which makes for a far more genuine and delicious taste.
What We Don't Like:
May Be a Bit Tart: some may find that there is a slight tartness to this tea. This can be balanced out with the addition of honey or some other sweetness.
Teavana Beach Bellini Tea
If you want a tea that will help you to relax and entice your senses, then this is the brew for you.
What We Like:
Great Blend: this really is a great blend of ingredients. There is some sweetness, a touch of sourness, and an overall juicy effect.
Calming Notes: the chamomile and other ingredients do make this a great tea for relaxing and unwinding.
Whole Natural Ingredients: this tea contains actual flowers and pieces of fruit. This lends a much more healthy and natural element to the tea.
What We Don't Like:
Pricey: these tea bags are a bit more expensive than most, but also boast a higher quality.
Tazo Dessert Delights Tea Glazed Lemon Loaf Tea
If you are looking for a healthier alternative to desserts or snacks, this is it.
What We Like:
Lovely Aroma: this tea has a delicious aroma that gets you hyped up for the flavor that is to come.
Great Taste: there are many complex and nuanced flavors here. The sweet tartness of the lemon works well with creaminess of the vanilla.
Healthy Option: there are no calories or sugar in this tea making it a healthy, yet delicious option.
What We Don't Like:
Inconsistent Quality: the quality can sometimes vary from one box to the next
The Republic of Tea Honey Ginseng Green Tea
Want to improve the taste of green tea? Well, here is your option right here!
What We Like:
Complex Taste: if you don't like the taste of green tea, you can certainly enjoy it more with the natural sweetness brought to you by the honey and ginseng.
Natural Ingredients: this brew contains only natural ingredients, creating a more nuanced and authentic flavor.
Healthy: these delicious flavors make it far easier to drink green tea. Not to mention, the other ingredients are equipped with their own health benefits as well.
What We Don't Like:
May Need to Use Two Teabags: a single tea bag isn't very strong so you may need to double up on tea bags or increase the steeping time a bit.
These are the best tasting teas around. Whether you don't like tea or are simply looking for a new taste, you are sure to find what you are looking for.
With these flavors, tea drinking will no longer be a chore.
If you enjoyed this post, head over to our Pinterest page. You can find plenty of other posts on making tea taste better for you.