You can't make the perfect cup of tea without the right kettle. Of course, if you are like most people, then you probably haven't put too much thought into your previous purchases. 
Well, if this is the case, then things need to change right away. Your tea kettle is an investment like any other.
Thus, it is important to find one that fits your needs perfectly. If this is something that you are interested in doing, this tea kettle review and buyer's guide will show you the way…
Our Picks
Choosing Your Tea Kettle
No thanks, take me to the Best Tea Kettles
Before revealing the top tea kettles that you can buy, though, let's first take a look at how to choose one. This will give you a better idea of what really makes up a great tea kettle.
Types of Tea Kettles
There are two main types of tea kettles – stovetop kettles and electric ones. To understand which one might be more suited to your needs, let's take a closer look at each option.
Stovetop Tea Kettles
The one that you may be most familiar with is the stovetop tea kettle – these, after all, have been around forever. As the name implies, you place this kettle directly on your stovetop.
These tea kettles tend to be made of stainless steel, although it isn't uncommon to find ones made from borosilicate glass. This type of glass is often heat resistant, fire resistant, and much stronger than typical glass. As such, you can use it to boil water without worrying about it cracking.
Recently, tea kettles made from cast iron have also become rather popular. These kettles are a part of traditional Japanese culture and are known as tetsubin. As they have been designed to boil water, these too can be used on top of an open flame or heated surface.
There are tea kettles made from porcelain as well. These often tend to be prettier or even more brightly colored than other materials.
Stovetop tea kettles can also be divided into subcategories. These include:
Whistling Tea Kettle
There is a good chance that you grew up in a home that had a whistling tea kettle. These are quite popular and this stands to reason. One of the easiest ways to know that your water is boiling is to hear the whistle go off. Thus, they are perfect for busy households.
Tea Kettle with Infuser 
Tea kettles with infusers are only now really entering the market. It is important not to confuse these with teapots with infusers – these are an entirely different product.
These tea kettles are equipped with a removable tea infuser. So, once the water is done boiling, you can simply pop in the infuser filled with tea leaves. The main advantage of these designs is that it saves you the trouble of having to use a separate teapot for brewing.
Electric Tea Kettles 
Then, there are electric kettles. These are gaining favor among the tea-drinking masses because they are pretty easy to use. You simply have to fill them up, plug them in, and you are done. These automatically switch off once they reach the desired temperature. As such, there is no risk of leaving your water to boil for too long.
These tea kettles may either be made from stainless steel, glass, or high-grade plastic. The newer versions are often equipped with temperature settings so that you can choose your ideal temperature as well.
What to Consider When Selecting a Tea Kettle
Now, let's move onto the various features that you should look at when looking for a tea kettle. Here are the most important elements.
Heating Capabilities
Now, your goal with any tea kettle would be to heat your water as quickly as possible. Typically, you will find that electric kettles can heat the water at a faster rate than most traditional stovetop options.
However, this doesn't mean that stovetop kettles are out of the race. There are now several designs that have encapsulated bases. This refers to a kettle where one layer is sandwiched between two others made from a separate material.
All you really need to know, though, is that tea kettles with encapsulated bases boast enhanced heat distribution. As such, these kettles are able to heat the water faster than others without this feature.
Safety Features 
You don't need to be told that pouring just-boiled water out a tea kettle is a dangerous endeavor. So, how can you make this a safer process for you?
Well, one way to do this is by ensuring that the kettle that you choose is equipped with the proper safety features. 
To begin with, look for a tea kettle with a handle that is made from silicone, rubber, wood, or any material that doesn't conduct heat well. Thus, even if the rest of the kettle is hot, this spot will be cool to the touch.
You should also ensure that there is enough space between the lid and the handle. This cuts down on the risk of your hand brushing against a heated portion of the kettle.
Ease of Pouring 
You also need to determine how easy it will be to pour. One way to do this is to look at the spout. Will the hot water gush out? Do you have to tilt the kettle quite a bit to allow the water to come out? While these may seem like rather silly things to consider, you will be glad that you did later on.
Another aspect to consider is how balanced the kettle is, especially when it is full. Are you able to keep the kettle steady using the handle alone? Does it remain in a fixed position or does it swing when you try to pour water from it?
Look for kettles that are easily balanced out by their handles – these are easier to grip and pour with. Also, stick with kettles that remain steady as you lift them into the air.
Durability 
As mentioned, tea kettles are an investment. Therefore, you need to make sure that the product that you select is capable of lasting you for years.
This is where the quality of the material comes in. Make sure that the material is highly heat resistant and that it will not be easily warped or damaged in any way.
If you are selecting a stainless steel kettle, check that it is impervious to rust and discoloration. With glass kettles, make certain that they can withstand cracks and scratches.
Simple to Clean 
You are going to need to clean out your kettle every day. To ensure that it is thoroughly cleaned, you will need access to the entire interior of the kettle.
This is why you should look for one that has a wide opening where the lid is. You can then get into all the nooks and crannies without any trouble at all.
Appearance
Tea kettles aren't just functional, they can also be rather beautiful as well. So, if you want your kettle to be a style statement, it is a good idea to select one with an intriguing design or color scheme.
Fortunately for you, there are a number of different options to select from. You just have to make sure that they meet all the above criteria first.
The Best Tea Kettles
Here is what you have come for – the best tea kettles on the market. After extensive testing, here are the ones that we feel will do you justice…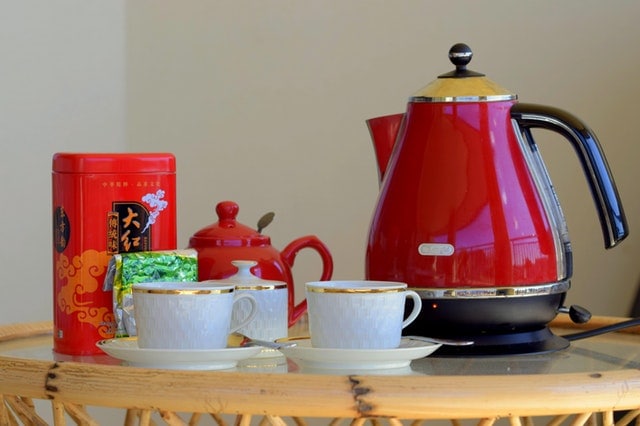 Best Electric Tea Kettle
Miroco Electric Kettle
There is actually quite a bit to like about this tea kettle. However, what we found most advantageous is that the overall design is quite good.It is very safe and super easy to use on a regular basis. So, it is the perfect option for anyone who likes to drink tea every day.
What We Like:
Double Wall Design: thanks to this double-wall design, you won't have to worry about grabbing the body of the kettle when you are in a rush. Although the interior is made from stainless steel, there is a protective layer to ensure that you don't burn yourself.
Overheating Protection: there is a safety feature in place to ensure that a proper temperature is maintained at all times.
Wide Opening: the wide opening ensures that you can reach all sides of the kettle, including the base. This makes it a great deal easier for you to clean.
What We Don't Like:
No Water Gauge: it is difficult to estimate how much water you are pouring into this kettle. Thus, you will first need to measure the volume and then pour it into the kettle.
Best Stovetop Tea Kettle
Kitchen Aid Kettle
If you are looking for a heavy-duty, sturdy kettle, then this is certainly a good option for you.Not only is this kettle built rather well, but it is also sophisticated enough to fit in with all kitchen interiors.
What We Like:
Heats Water Well: the kettle is great at heating water evenly, ensuring that the water can boil quickly and efficiently.
Good Handle Design: the handle on this kettle is quite sturdy and comfortable to hold. Thus, you shouldn't have any trouble with it.
Thumb-Press Design: with this feature, you can choose to pour water from either a small or a large opening. As such, you can control the force of the water, depending on the vessel you are pouring into.
Numerous Color Options: there are several color options to choose from, allowing you to easily match the other accessories and appliances you have in your kitchen.
What We Don't Like:
High Maintenance: as it is made of porcelain, this kettle requires more maintenance than others. Thus, you will need to dry it properly every time that you use it.
Related Article
Whistle While You Work: Counting Down the Best Tea Kettles for Gas Stove
Sale
Cuisinart Electric Kettle
This electric kettle is about as high tech as you can get and it certainly looks the part. If your main goal is to have a kettle with all the latest bells and whistles, then this will do the trick.As far as electric kettles go, it does have a rather attractive design as well.
What We Like:
Various Temperature Settings: as you are aware, different teas should be brewed at different temperatures. This kettle makes it possible thanks to its variable settings. You can select which temperature is most suitable for you so that it doesn't overheat.
Water Warming Function: once your water has reached its optimal temperature, you can continue to maintain a warm temperature. As a result, you don't have to keep reheating the water if you don't use it immediately.
Fast Boiling Function: with 1500 watts of power behind it, this kettle can heat up larger amounts of water quite quickly.
What We Don't Like:
Poor Insulation: the outside of the kettle can get quite hot so you do need to be careful.
Sale
Kitchen Kite Tea Kettle Infuser
Do you want to add some flair to your tea making process? Then this is just the tea kettle to do it with.This kettle is made entirely out of glass and is absolutely beautiful. You don't have to worry, though, as it is quite tough as well!
What We Like:
Durable: although it may look delicate, this kettle is durable enough to be used on any stovetop. It can even be microwaved. So, you don't have to be concerned about damaging it any way.
Drip-Free Spout: the kettle is equipped with a drip-free spout ensuring that no mess is made when you are pouring tea into cups.
Fuss-Free Design: the tea steeping implements can be easily added in and you can watch until the tea turns to the perfect hue before pouring it out.
What We Don't Like:
Handle Can Heat Up: the handle can get quite hot so you will need to use a heat-resistant glove or similar object when using it straight off the stove.
AmazonBasics Electric Kettle
If you aren't looking for anything fancy, then this electric kettle will certainly do the trick.It may be rather basic, but you can be quite sure that it will get the job done every time.
What We Like:
Good Value: if you don't want to spend a great deal of money, but still want a well-functioning tea kettle, then this one fits the bill.
Transparent Window: there is a transparent window that shows you just how much water you are filling in the kettle.
Easy to Fill: the wide spout and easy access lid opening make this kettle an absolute breeze to fill.
What We Don't Like:
Uninsulated Body: the body isn't insulated so you do have to be careful when handling this tea kettle.
Best Whistling Tea Kettle
Sale
Poliviar Tea Kettle
By glancing at this tea kettle, you wouldn't believe that it was actually made of stainless steel. However, the natural stone finish and wood-like handle make it a beautiful addition to your kitchen.It also functions really well as a whistling kettle to boot!
What We Like:
Great Whistle: this whistle hits all the right notes. It is audible, but not too loud. At the same time, the whistle is quite pleasant and not piercing at all.
Numerous Safety Features: from the anti-heat handle to the simple touch button function, this kettle is quite simple and safe for virtually anyone to use.
Fast Heat Base: the kettle has been designed to heat up as quickly as possible, cutting down on the time required for your water to boil.
What We Don't Like:
Tricky Lid: the lid is difficult to remove making it time-consuming to fill up this tea kettle.
COSORI Electric Kettle
At first glance, you really won't believe this is an electric kettle. So, it is perfect if you are hoping to get the best of both worlds.This kettle offers up the aesthetic appeal of stovetop kettles along with the precision of modern technology.
What We Like:
Unique Design: this electric kettle looks just like a stovetop – even the base is designed to match it. Thus, it will be a stylish addition to your kitchen and fit in well with a wide variety of décor.
Precise Features: the functions on this kettle make it easy to choose an optimal temperature and even maintain that temperature for extended periods of time.
Easy-to-Pour Spout: the spout allows you to carefully control exactly how much your pour, particularly when dealing with smaller vessels such as cups.
What We Don't Like:
Soft Beep: although there is a beep to tell you when the water is done, it is often too soft to hear.
TopTier Cast Iron Tea Kettle
You will be hard-pressed to find a more beautiful tea kettle than this. At the same time, this is one of the best functioning stovetop tea kettles out there.What's more, it has a built-in tea infuser to make it even easier for you to brew your tea.
What We Like:
Gorgeous Design: this tea kettle is available in different colors, but the overall design is really what stands out. It is unlike most other tea kettles on the market today.
Resistant to Rust: the interior is resistant to rust. You simply have to clean it with water and have peace of mind that the durable interior is maintained well.
Ergonomic, Non-Heating Handle: the handle isn't just comfortable to hold, it has also been designed to remain cool, even if other parts of the kettle heats up.
What We Don't Like:
Low Capacity: this kettle can hold very little water. Therefore, it is only really suitable if you plan on making one or two cups of tea at a time.
There you go – the best tea kettles that are currently available! Select any one of these and your tea making really will be transformed.
If you want to stay up to date on more tea kettle-related posts, make sure to head to our Pinterest page.