If you are looking for the most efficient way to heat water for your tea, then an electric tea kettle will do the trick.
What isn't as easy to decipher, though, is what the best electric tea kettle is.
After all, there are dozens of brands to choose from!
Well, if you are looking to narrow down your options, then you have come to the right place.
Here, you can find information on how to choose an electric kettle as well as discover your best options.
Our Picks
Benefits of a Top Rated Electric Tea Kettle
First, let's take a look at why an electric tea kettle may be a good choice for you.
Well, there is no denying that tea kettles are a great deal more efficient.
Unlike stovetop tea kettles, you don't have to watch your electric tea kettle.
Instead, you can leave it to boil or heat up, knowing that it will shut off once it is done.
Even an electric kettle isn't featured with an auto shutoff, there is minimal damage done.
As an added bonus, newer tea kettles are also becoming more precise.
They are now equipped with specific temperature options for different kinds of tea.
Thus, you don't have always have to bring your water to a boil.
Instead, you can heat it just enough for it to be perfect for lighter brews such as white and green tea.
Of course, the only way to keep such a device entirely efficient is to learn how to use a tea kettle properly.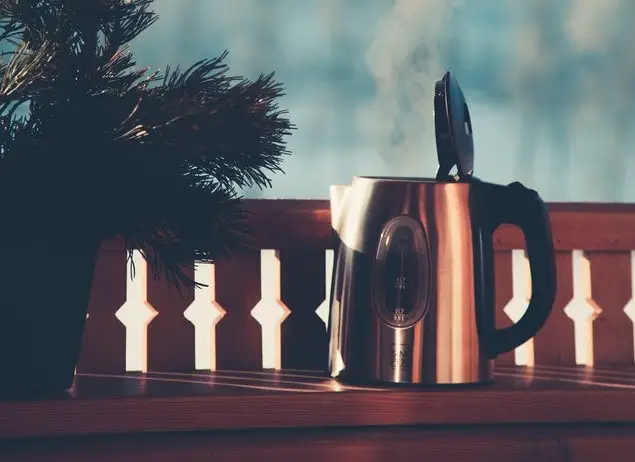 Tips for Choosing the Best Electric Teapot
These are the factors that you should consider when selecting the right tea kettle for you:
The Materials
Electric tea kettles can be made from a variety of materials.
The most common options, however, are stainless steel, glass, and plastic.
The benefits of stainless steel is that it is quite durable.
Some people can feel a bit nervous about using a glass tea kettle as it may crack if dropped.
However, glass tea kettles do tend to be easier to maintain. It is also far easier to keep track of how much water is in the compartment.
There are some who claim that stainless steel imparts a certain taste to the water. Glass tea kettles, however, don't do this.
It is best to steer clear of electric kettles where the plastic can make contact with the water during the heating process.  
There is a tendency for leaching to occur and this may be harmful to you if you are using the tea kettle over a longer period of time.
The Speed
Tea kettles aren't designed to be equally fast.
This is why it is important to pay attention to how long it will take for a kettle to reach the boiling point when full.
A fast tea kettle will come in handy, particularly on busy mornings.
Safety Features
As mentioned, auto shut-off functions can put your mind at ease quite a bit. Thus, look for a tea kettle that has such a feature.
You may also want to look for ones that will do so the moment that the water has finished boiling.
This way, you will not have to worry about the water in the kettle drying out due to overheating.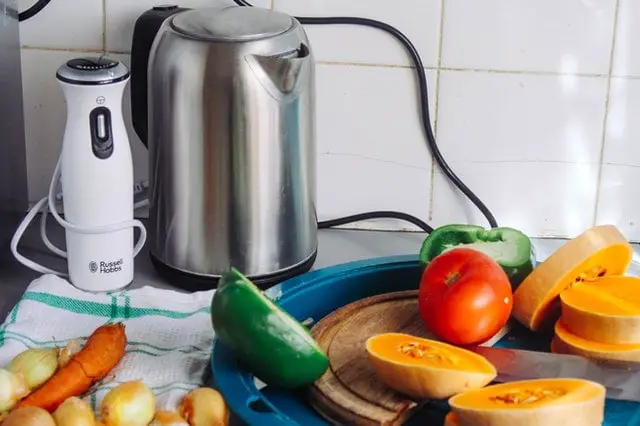 Capacity
Needless to say, capacity is quite important when looking for a kettle.
Be mindful of how many cups of hot water you require at any given time.
A larger household will require a larger capacity, while a single person may not need quite as much at one given moment.
Durability
It should go without saying that you will require tea kettle that is built to last for a longer period of time.
Thus, look for high-quality ones, even if this means that you will need to invest a little bit more upfront.
This will end up working in your favor in the long run.
Temperature Control
Since you are buying a tea kettle for tea brewing purposes, look for one with temperature control.
Focus on the ones that offer precise temperatures for different kinds of teas.
This way, you will find it a lot easier to brew your tea to absolute perfection.
Aesthetic Appeal
Last, but certainly not least, consider the aesthetic appeal of your kettle.
Make sure that it is stylish, but that it is also perfectly suited to your kitchen décor.
At the very least, select a timeless, classic style so that your kettle will blend with any surrounding.
Related Articles
A Guide to Finding the Best Tea Kettles for Gas Stove
Here's All You Need to Know About the Best Tea Kettles on the Market
The Best Electric Kettles for Tea
Now, let's take a look at the top electric tea kettles for you:
Best Electric Water Kettle Overall
What We Like:
Overheating Protection: this feature ensures that the kettle switches off when the boiling is complete. In turn, the kettle is also equipped with dry boil protection as well.
Double Wall Design: you are completely safe from the heated stainless steel interior. As such, there is no chance of burning yourself when you pick up this kettle.
Wide Opening: this kettle offers you easy access to the interior portion. As such, it is a breeze to clean on a regular basis.
What We Don't Like:
Lacks Water Gauge: you will need to measure the water before pouring it into the kettle as there is no gauge to tell you how much you are adding.
Fastest Electric Tea Kettle
Sale
Hamilton Beach Electric Tea Kettle
This tea kettle is simple, yet efficient. It is also suitable for virtually any space from a home to a dorm room.
What We Like:
Easy to Use: there is a fuss-free kettle. You just fill up the water and flip the switch. There is no learning curve involved at all.
Incredibly Quick: with this kettle, you can boil water faster than if you are using a tea kettle. This makes it perfect for whenever you are in a rush.
Safe: the auto shut-off and boil protection feature means that this is a safe kettle to keep in your kitchen. To add to this, the heating element of the kettle is fully covered as well.
What We Don't Like:
Water in Contact with Plastic: due to the water gauge on this kettle, the plastic does make contact with the water during the boiling process.
Best Glass Electric Tea Kettle
COSORI Kettle
This efficient kettle is equipped with all the modern features that you expect of your kettle.
What We Like:
Durable: the kettle is made from glass that is scratch and scuff resistant. This allows you to keep the kettle in good condition for an extended period of time.
Good Boiling Time: you should be able to boil your water fairly quickly with this kettle. Depending  on how much water you have added, the boiling process can be anywhere from 3 to 7 minutes.
Easy to Maintain: the kettle has a large opening. Due to this, you should have no problem cleaning each and every inch of it.
What We Don't Like:
Too Long Auto-Shutoff: the auto shut-off feature only sets in 30 seconds after it has come to a boil. Thus, you may end up over-boiling your water for teas.
Best Electric Kettle with Temperature Control
What We Like:
Six Variable Temperatures: you can heat the water to a perfect temperature for delicate teas, white, green, oolong, and black tea. There is also an option for French press coffee.
Stay Warm Function: there's no need to worry about your water getting cold. This electric comes equipped with a feature to keep your water warm for a longer period of time.
Large Capacity: this kettle is capable of holding up to ten cups of water at a time. Thus, it is an excellent option for a larger family.
What We Don't Like:
Tricky Lid: the lid can be a bit difficult to open and close and does require some strength.
Best Stainless Steel Kettle
Sale
KitchenAid KEK1222SX Electric Kettle
Want a unique and stylish-looking tea kettle, then this is the one for you. Oh, and it functions beautifully, too!
What We Like:
Great Retro Design: this electric kettle doesn't look electric at all. Instead, it has a gorgeous retro aesthetic. Still, the kettle behaves exactly like a modern electric kettle.
Internal Markings: the internal markings show you exactly how much water you are pouring in without compromising the overall look of the kettle.
LED Power Switch: the LED power switch lets you easily know when the power is on or off.
What We Don't Like:
Awkward Positioning of Handle: the handle can make it a little difficult to fill up the kettle at times.
Bonavita Electric Kettle
If you want a more precise way to heat up your water, then this electric kettle may be right up your alley.
What We Like:
Can Select Exact Temperature: this model gives you the option of selecting the exact temperature that you prefer. You can do this in both Fahrenheit and Celsius.
Hold Function: the hold function ensures that your water stays at a particular temperature for up to 60 minutes at a time.
Precise Pouring: the gooseneck feature on this kettle makes it a breeze to pour hot water into even the smallest cups.
What We Don't Like:
Requires Some Maintenance: you do have to use descaling powder every now and then to ensure that scale doesn't form in the kettle.
These are the top electric tea kettles to choose from. As you can see, there is one to meet each and everyone's needs.
If you prefer selecting your own, making sure that you follow the guidelines mentioned here.
Did you enjoy this post? Then, head over to our Pinterest page. You can find pins on other kinds of kettles and other tools used for tea making.