On the surface, the concept of a glass tea kettle may seem rather contradictory.
After all, can these delicate-looking vessels actually stand up to the task of being placed on a stove or electric base?
Well, it turns out that as long as you have the best glass tea kettle, you have nothing to worry about.
These tea kettles are beautiful, durable, and utterly functional.
If you want to find the ultimate glass tea kettle for your kitchen, here is what you must know:
Our Picks
Examining the Borosilicate Glass Tea Kettle
The first thing that you need to understand is the material with which glass tea kettles are made from.
As you can imagine, these kettles aren't made from the same type of material as the rest of the glassware in your home.
Rather, glass tea kettles are typically made from borosilicate glass. It is far stronger and more durable than traditional glass.
It will also not break as easily as regular glass, reducing the risk of you cracking the glass. 
One of the most distinguishing features of borosilicate glass is that it can stand up to incredibly high temperatures.
As such, this is why you will find that all the glass kettles in the best tea kettle list will be constructed from this material.
Glass vs. Stainless Steel Kettle
Now, let's consider how a glass and stainless tea kettle measure up against one another.
It is natural to imagine stainless steel kettles are superior. After all, they are more commonly available and there are tougher as well.
However, glass tea kettles have their own set of advantages.
For one thing, glass is an inert and stable material. Due to this, it doesn't really interact with the water or tea inside it.
This means that the glass tea kettle won't change the taste of the water or the tea in any way. 
You can't always say the same thing about stainless steel tea kettles. In some cases, they can impart a certain metallic taste to the water.
Another benefit with glass tea kettles is that they allow you to brew the tea right in the pot.
Furthermore, the transparent material makes it easy to know when the tea has brewed to the sufficient strength.
Types of Glass Tea Kettles
There are technically two types of glass tea kettles to select from – stovetop and electric glass tea kettles.
Glass Stovetop Tea Kettle
As the name suggests, this type of kettle is built to be placed on the stovetop. One of the main benefits of this kind of tea kettle is control.
You can turn off the heat before or right after it reaches the boiling point.
This makes it far easier for you to brew the perfect cup of tea, regardless of the kind of tea that you are drinking.
Glass tea kettles can further be divided into two kinds – whistling tea kettles and infuser tea kettles. 
Related Articles
Your Guide to Selecting the Best Tea Kettle for Gas Stove
Whistling Glass Tea Kettle
These are a rather rare type of glass tea kettles. This design causes the kettle to whistle once it begins to boil.
The main advantage is that you don't have to watch over your water while it is boiling.
Glass Teapot with Infuser
If you want to heat your water and brew your tea in one container, then this is the tea kettle for you.
These kettles are equipped with removable stainless steel infusers. You can add your tea leaves into the infuser and allow it to steep for a set period of time.
Glass Electric Tea Kettle
Glass electric tea kettles are generally seen as the safer option. This is because most models are equipped with an Auto Shutoff function.
This means that shortly after the water begins to boil, the kettle shuts off. Thus, you don't have to worry about the water boiling down to nothing.
How to Choose Your Glass Tea Kettle
Here are some things to consider when selecting your glass tea kettle:
The Materials
Don't assume that all glass tea kettles are made from borosilicate glass. Instead, do your research to discover exactly what the kettle is made from.
Similarly, look at the specific features of that kettle. Determine how much heat it can stand, how tough it is, and whether or not it is scratch-proof.
These features will give you some idea of how durable the tea kettle is as a whole.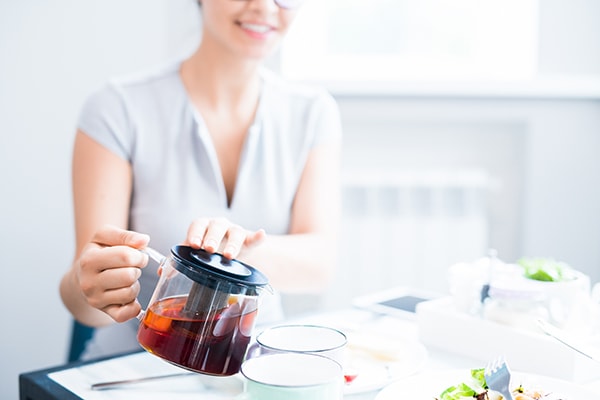 The Handle
Make sure that the handle has a stable, ergonomic grip.
Keep in mind, you will need to handle the kettle when it is filled with hot water. Thus, you need to pick one with an appropriate handle.
You should also check that the handle doesn't heat up easily. 
The Capacity
The capacities of glass tea kettles can vary quite a bit. Some are meant for just one or two individuals while others have been designed to be for larger families.
Always check exactly how much a kettle can hold, particularly if it is equipped with an infuser. 
The Cleaning Mechanism
It is important to keep your tea kettle clean, especially if you will be brewing tea in it.
Thus, look for one with a wide mouth that allows you to clean the inside of the kettle thoroughly. 
The Best Glass Teapots for You
Here are the top glass teapot designs available on the market:
Best Glass Stovetop Tea Kettle
Café Brew Tea Kettle
With its cool, utilitarian design and excellent performance, this glass stovetop tea kettle will be a great addition to any kitchen.
What We Like:
Highly Heat Resistant: the kettle is especially heat resistant. As such, you can use it time and time again without worrying about any kind of damage.
Measurement Lines: the teapot has useful measurement lines allowing you to make exactly the right amount of tea for you or your guests. This prevents any waste.
Whistling Feature: the teapot is equipped with a whistling feature, alerting you to when your water has boiled to the appropriate temperature.
What We Don't Like:
Handle Heats Up: the handle does heat up quite a bit so you do have to use some form of heat protection before picking up the kettle.
Best Glass Electric Tea Kettle
COSORI Kettle
This kettle allows you to efficiently boil water for your tea, while also being equipped with plenty of cool features.
What We Like:
Durable: the glass is scratch-resistant and scuff-resistant. This way, you can keep your kettle in excellent condition for much longer, even while using it regularly.
Quick Heating Process: depending on how much water is in the kettle, you can expect your water to boil within 3 to 7 minutes.
Easy to Clean: the wide rim allows you to reach every nook and cranny as you are cleaning out your kettle. This makes the kettle a lot more hygienic to use.
What We Don't Like:
Too-Long Auto Shutoff: the auto shutoff only kicks in30 seconds after the water begins to boil. This means that the water often boils for much longer than necessary for brewing tea. 
Sale
Hiware Glass Teapot
This beautiful teapot doesn't just heat up your water, it also functions well as a serving pot as well.
What We Like:
Works with Multiple Heating Elements: this teapot is durable enough to be placed on a stovetop or a microwave, depending on how you want to heat your water.
Equipped with Infuser: as it contains an infuser, you can actually brew the tea inside the teapot, allowing you to serve the tea directly from the pot. 
Non-Drip Feature: this teapot has been designed to be non-drip, ensuring that there is less of a mess made when you use it.
What We Don't Like:
Small Spout: the small spout makes it rather difficult to clean this portion of the teapot.
What We Like:
Quick Heat Function: this electric kettle will boil water at full-capacity in around six minutes. Needless to say, you wont have to wait too long for your water to boil.
Instant Auto Shutoff: the kettle shuts off the moment that the water boils preventing it from over-boiling.
360° Base: you can set the kettle down at virtually any angle and still be able to use it without any problem.
What We Don't Like:
Unstable Lid: the lid doesn't always settle properly onto the body of the kettle. 
Sale
Kitchen Kite Infuser Tea Kettle
If you want to add a touch of class to your tea drinking ritual, then this is the tea kettle for you.
What We Like:
High-Quality Material: this glass isn't just heat-resistant, it can be used with multiple appliances including the stovetop, microwave, and dishwasher.
Good Capacity: despite its delicate appearance, this kettle can actually hold enough water or tea for four to six cups.
Contains Infuser: the kettle contains a fine-mesh infuser that makes it a breeze to brew tea within the pot.  
What We Don't Like:
Handle Gets Hot: the handle gets quite hot during the heating process and you have to wait for a while until it cools down.  
Sale
Pohl Schmitt Electric Tea Kettle
This is one of the safest and healthiest kettles that you can use to boil your water.
What We Like:
No Plastic Components: the water will not come into contact with any plastic elements at all, making it far safer for you to boil water in this appliance than others.
Durable Container: the glass is tough and scratch-resistant. As such, it is something you can easily use time after time.
Equipped with Filter: this kettle has a fine-mesh filter at the spout, preventing any particles from flowing into your cup.
What We Don't Like:
Extended Auto Shutoff: the auto shutoff feature only kicks in 30 seconds after the water starts boiling, allowing the water to boil for much longer than necessary.
So there you have it – the best glass tea kettles for you to select from. Now that you have this guide you will find it a breeze to figure out which one is right for you.
If you want to learn more about tea kettles, check out our Pinterest account for similar posts and tips!