Most people turn to chamomile tea when they can't sleep. A single cup can help you relax, making it much easier for you to get some shut-eye.
The truth, though, is that chamomile tea boasts numerous health benefits. Experts predict that it can help digestive health, improve blood sugar control, reduce the risk of cancer, and a lot more.
Naturally, you are going to need to choose the best chamomile tea if you wish to gain all these perks, however.
If this isn't something you are used to, you may struggle to figure out what brand is really good for you.
Well, after you check out this post, you will have no problem picking out the best possible option for you.
Our Picks
How to Select the Best Quality Chamomile Tea
No thanks, take me to the Best Chamomile Teas
Before actually moving onto the top brands, let's first take a look at how you can choose the best chamomile tea on the market.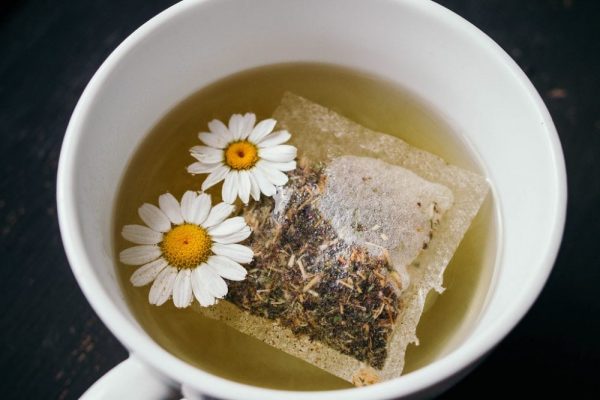 Chamomile Tea Type
What many people don't realize is that there are several types of chamomile tea. The two most common options, though, are German and Roman chamomile tea.
So, how do these types differ? Well, there is some variation in the levels of healthful components, including antioxidants.
This means that different types of chamomile tea offer up varying benefits.
For instance, opt for the German chamomile tea if you are looking for a tea that will relieve anxiety and make it easier for you to fall asleep.
On the other hand, if you are drinking chamomile tea for the antioxidant level, you should buy Roman chamomile tea.
Although it isn't nearly as common, you can also find Egyptian chamomile tea. It's been shown to have similar health properties as the other versions.
At the same time, many people find the Egyptian version to be better tasting as well. It tends to be full-bodied and has a smoother flavor.
Loose vs. Bagged Chamomile Tea – The Surprising Truth
It is a fact that loose tea often tends to be tastier and healthier than the bagged version.
However, it does appear that chamomile tea may be an exception to this rule.
One study showed that loose chamomile tea was more likely to be mixed with other components, reducing the effectiveness and quality of the tea.
Due to this, you may be better off buying chamomile tea bags over loose leaf tea.
Nevertheless, it is still important to pay attention to the brand and level of quality of the tea.
When to Go Organic
If you still want to buy loose leaf tea, it may be best to go organic.
This is because these brands are expected to adhere to stricter growing and processing rules.
Not to mention, they undergo more stringent testing processes as well. Due to this, they are purer and of better quality.
The Ingredient List
One of the easiest ways to know what kind of chamomile tea you are buying is to read the ingredient list.
For example, it is best to select chamomile teas that contain 100 percent pure chamomile tea.
Steer clear of brands that have included other ingredients as this might compromise the overall quality of the tea.
However, if you prefer, you can opt for a chamomile tea that has been blended with other healthful herbal teas.
On a similar note, it is a good idea to stick with brands that offer plenty of information on how the chamomile tea was grown and sourced.
This will ensure that you are enjoying the highest quality tea.
Related Articles
A Comprehensive Guide to Types of Tea
Serenity with Every Sip: The Best Tea for Anxiety
The Top Chamomile Tea Reviews
Let's check out what the best chamomile tea brands on the market are.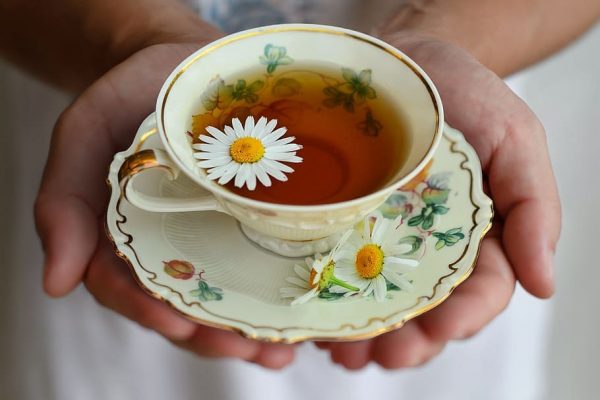 Best Loose Leaf Chamomile Tea Brands
These are the brands that will help you brew the best chamomile tea.
Luxury Pick
U.S. WELLNESS NATURALS CHAMOMILE TEA
These whole flowers are excellent for brewing a healthy and delicious cup of tea. This is arguably one of the best organic chamomile tea brands available.
What We Like:
Excellent Quality: you will be hard-pressed to find a brand that adheres to such high organic standards. Not only are the flowers well-sourced, but they are also packaged in an organic facility.
Well-Preserved Nutrient Content: the whole flowers have been well-preserved, ensuring that they have a higher nutrient content and can provide more health benefits.
Long-Lasting Freshness: as long as the flowers are kept sealed, you can expect to maintain their health benefits for up to 2 years at a time.
What We Don't Like:
Some Stems Included: you may have to sift through the stems to isolate the flowers with this tea.
Value Pick
DAVIDSON'S CHAMOMILE TEA
Looking for organic loose leaf tea but don't want to pay an enormous price tag? Then, Davidson's tea will hit all the right notes.
What We Like:
Decent Quality: of course, this is organic tea. Apart from this, though, the tea is of a higher quality which is quite surprising giving the price point.
Good Taste: this tea has a nice buttery and sweet taste. This makes it a suitable option for those that are just being introduced to the tea.
Great for Regular Drinkers: if you drink chamomile tea regularly, this quantity and price will be excellent advantages for you.
What We Don't Like:
Powdered Contents: there are some powdered elements in the bag so you will need to separate these first before you can brew your tea.
Our Pick
FRONTIER CO-OP CHAMOMILE TEA
If your main focus with chamomile tea is health and taste, then this is the brand for you. It offers a much more wholesome brew.
What We Like:
Whole Flowers: the whole flowers allow you to brew a more authentic and healthy cup of tea. Not to mention, there is less hassle involved as well.
Crisp, Fruity Taste: this has an authentic German chamomile taste that boasts a tart, apple-like flavor.
Good for Seasoned Drinkers: if you enjoy a robust cup of chamomile tea, then this will certainly keep you satisfied.
What We Don't Like:
Quite Strong: the tea may prove to be too strong or bitter for people who aren't used to an unadulterated version of the tea.
Best Chamomile Tea Bags
These are the best tea bags for a fuss-free brewing experience.
Luxury Pick
TRADITIONAL MEDICINALS CHAMOMILE TEA
If you are looking to capitalize on the health benefits of chamomile tea, this brand will certainly offer up the best advantages.
What We Like:
Medicinal-Grade Flowers: these flowers are medicinal-grade. As such, they may contain a higher number of antioxidants and other health-boosting components.
Nice Taste: this tea tastes fresh with a hint of honey. It really does make for a lovely cup of tea.
Long-Lasting Quality: the tea maintains its freshness for a greater period. As such, it is great for stocking up.
What We Don't Like:
Average Tea Bags: for the price, the tea bags are small and consist of very ground-up flowers.
Value Pick
BIGELOW CHAMOMILE TEA
If you want an affordable, quick way to drink your tea, Bigelow is your best bet.
What We Like:
Decent Quality: the tea bags contain 100 percent pure chamomile flowers which ensure that the quality of these tea bags is quite good.
Maintains Freshness: the tea bags are individually wrapped, allowing them to stay fresher for longer.
Brews Well: the larger-sized tea bags make it easier for you to brew a stronger cup of chamomile tea.
What We Don't Like:
Lacks Complex Flavors: those who drink chamomile tea for the taste may be disappointed with the lack of complex flavors.
Our Pick
TAYLORS OF HARROGATE CHAMOMILE TEA
This product boasts good quality tea that is also tasty – it offers up the best of both worlds, especially if you have an experienced palate.
What We Like:
Great Taste: this offers up a great robust flavor that is offset by a hint of honey. So, it works well for seasoned and first-time chamomile tea drinkers.
Large Tea Bags: the larger tea bags have a greater quantity of tea allowing you to brew a stronger drink.
Good for Daily Drinkers: if you have a discerning palate and like to drink chamomile tea regularly, this tea bag will keep you well-stocked for a while.
What We Don't Like:
Tricky Packaging: the tea bags aren't equipped with strings, making them a little difficult to remove from your cup once the tea has been brewed.
Best Tasting Chamomile Tea Brands
As mentioned, Egyptian chamomile tea is said to be tastier. Thus, if you are drinking chamomile for the flavor, here are the top brands:
Luxury Pick
TEALYRA EGYPTIAN CHAMOMILE TEA
If you want a delicious, honeyed chamomile tea, you will be hard-pressed to find one that beats this.
What We Like:
Delicious Flavor: this tea is robust but with a notable honey flavor that is apparent in every sip you take.
Strong Brew: you can brew this tea to a greater strength which allows you to fully enjoy the robust flavor.  
Grown in Egypt: the tea is grown in Egypt, allowing it to develop a more authentic flavor.
What We Don't Like:
Small Amount: it has a smaller quantity. Thus, when taking the cost into account, it may not be feasible to enjoy this tea on a regular basis.
Value Pick
STASH TEA CHAMOMILE TEA
If you are still getting used to the flavor of chamomile tea, this is an excellent choice for you.
What We Like:
Good Quality Tea: despite the lower cost, the quality of the tea is pretty good which means that you aren't losing out on much.
Nice, Tart Flavor: the tea boasts a great apple, tart-like flavor that makes for a delightful drink. 
Maintains Fresh Taste: the tea bags are individually wrapped and remain fresh for longer.
What We Don't Like:
Have to Double Up on Bags: you need to brew your tea with at least two bags if you want a stronger tasting tea.
Our Pick
STARWEST BOTANICALS EGYPTIAN CHAMOMILE TEA
If you want to be able to enjoy a delicious cup of chamomile every day, then this is the brand to look to.
What We Like:
Crisp Flavor: this results in a crisp tea that is both delightful and refreshing.
Full Flowers: the bag contains full flowers that allow for a better transference of the taste.
Great Quantity: the quantity ensures that you will be well-stocked in chamomile tea for quite a while.
What We Don't Like:
Strong Flavor: this can be quite potent if you are still getting used to the chamomile flavor.
This concludes your guide to the best chamomile tea. You now know which brand will suit you. Or, you can simply use the information here to find a delicious brand yourself.
If you enjoyed reading this article, do check out our Pinterest page. It contains more fun facts and tea recipes for all tea lovers.