Tea can potentially decrease milk supply, but only when consumed in very high quantities.
My clients are aware that their lifestyle and diet can have an impact on their breastfeeding. As such, many want to know can tea decrease milk supply. Although unusual, this is a problem that can occur.
In this post, I will show you why certain teas may have a negative impact, while which ones are safe, and lots more. Let's begin!
Can You Drink Tea While Breastfeeding?
As mentioned, it is possible for tea to disrupt your milk supply. The main issue here is the caffeine in true teas. When you consume an excess of caffeine, it can cause mild to moderate dehydration.
When this happens, your body isn't able to produce as much breast milk as it usually does. Rehydrating and cutting down on your tea consumption can solve the problem.
Now, you should be aware that the caffeine content in tea can also have another unintentional effect that can interrupt your milk supply.
In higher quantities, caffeine is able to pass to your child via breast milk. Caffeine has the same effect on babies as it does with adults – it can leave your baby stimulated and interrupt their sleeping patterns. A fussy and tired baby will not feed as well as they usually do.
Since the production and flow of breast milk do rely on stimulation to a certain degree, the supply can be affected when your child doesn't want to feed.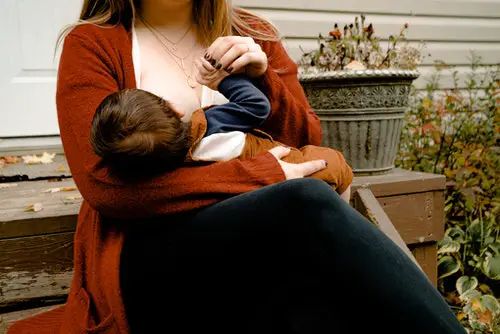 How Much Tea Can You Drink While Breastfeeding?
If you notice that your milk supply has reduced and suspect that your tea consumption is to blame, you don't have to give up your brew completely. Instead, it is simply all about lowering the overall quantity.
According to the CDC, you can consume up to 300mg of caffeine while breastfeeding. However, this isn't a hard and fast rule. Before figuring out the perfect dose, you do have to consider a couple of factors.
First, newborn babies break down caffeine more slowly and can be more greatly affected by this component. This is also true for preterm babies. Therefore, if this is the case with your little one, try to consume the least amount of caffeine possible in the beginning.
If your baby has any health conditions or has been struggling in any way, then you may want to temporarily give up caffeine. At least, try decaf tea, but always check the caffeine content to ensure that you aren't drinking more than you intended. Contrary to popular belief, some decaf teas can actually be rather high in caffeine!
Always use your infant's behavior as a guiding point. If they appear to be fussy, are sleeping less, and there have been changes in their feeding patterns, you may want to lower your caffeine consumption. If they are back to normal after a few days, then you can pinpoint the culprit and adjust your caffeine intake accordingly.
How Long After Drinking Tea Can I Breastfeed?
In addition to reducing your caffeine intake, it may also be helpful to change up when you drink your tea.
Try to wait until after you have fed your baby to have your first cup of tea. This way, there is no risk of any caffeine transference. Only if it is possible, you should wait up to three hours before feeding your baby again.
At this point, there will be less caffeine in your system and thus, you will be less likely to pass it onto your baby.
Is It Safe to Drink Herbal Tea While Breastfeeding?
You may be wondering about herbal tea – after all, these brews don't contain any caffeine at all. Are they safe for you to consume?
Well, it is difficult to determine. For one thing, there are so many different types of herbal teas out there. This makes it quite tricky to know what kind of effect each herb can have on your milk supply or your baby.
Not to mention, herbal teas are rarely regulated and it is difficult to know what kind of ingredients have been used or in what quantity. Due to this, most doctors would recommend anyone who is nursing to wait until their baby is weaned off the milk to drink herbal tea.
If you would like to pick up your herbal tea habit again, though, consult your doctor first. They will be able to give you more insight into whether that particular herb is safe for you and your baby.  
What Teas are OK to Drink While Breastfeeding?
If you are wondering about teas that can stimulate breast milk supply, fenugreek, and fennel tea has been used across generations. While it is possible that these brews might work, you should be aware that little scientific research has been done here.
Therefore, not only can you not tell whether or not these teas will be effective, but there is also no way to know whether the brews are safe. As such, it is not a risk that you may want to take.
Seeking Medical Guidance
If you are breastfeeding, it is best not to make any changes to your diet or lifestyle without first speaking with your doctor. There is a great deal of information online these days, but it can be tricky to separate fact from fiction.
It is only a medical professional who will be able to let you know whether or not something is safe for you and your baby. And, in terms of tea, your doctor may be able to provide you with more accurate guidelines for your overall caffeine consumption.
Tea may not interrupt your milk supply in moderation. However, it may be best to limit your caffeine intake as much as possible until your baby has been weaned. As for herbal teas, it is a good idea to skip them for now.
Did you enjoy this post? If so, make sure to check out our Pinterest page. We have tons of other great tea-related content for you to check out!