The top tea tins include the Teavac, SilverOnyx, Leoyoubei, Oggi, Henry Watson, and Zentealife containers.
As someone who invests in high quality, delicate tea leaves, I am obligated to find the best tea tins and containers for my prized leaves. After much research as well as trial and error, I can now share the top options with you.
In this post I outline the best brands and give you some insight into how to choose your own tins. Let's get started!
The Best Tea Storage Containers
These are the top options available to you:
Sale
Teavac Storage Container
Want to make the best effort to keep your tea fresher for longer? This container will help you to do just this.
What We Like:
Excellent Vacuum Seal: this container has been especially designed for tea leaves. As such, it boasts an excellent container that keeps the air out while allowing the moisture to exit the container.
Odor-Proof: in addition to being airtight, this lid is also great at keeping odors out. This allows you to preserve the natural flavors and aromas of the tea.
Large Design Variety: there are many designs and colors to choose from, ensuring that you will find the perfect one to match your kitchen.
What We Don't Like:
Lid is Delicate: the lid is quit delicate so you do have to be careful not to drop the container.
SilverOnyx Tea Tin Set
Want something sleek and utilitarian, this tea set meets these requirements and more.
What We Like:
Double Lid Feature: these containers have double lids. This ensures that the tins are sealed up extra well, ensuring that no moisture or air can get through.
Multiple Canisters: this set allows you to store multiple types of tea while being certain that the freshness of each kind will be properly maintained.
Neutral Design: the sleek and neutral-hued design makes this a great fit of all kinds of kitchens.
What We Don't Like:
Tricky Second Lid: by design, the second lid is a little difficult to open. It may pose a problem to individuals with muscle weakness.
Leoyoubei Tea Tin Set
If you want something cute but useful, you will find that this set is a delightful addition to your kitchen.
What We Like:
Double Lid Seal: each tin is equipped with a double lid. This keeps various kinds of tea well-preserved for a longer period of time.
Suitable for Large Collection: there are six tins in all, making it the perfect option for a tea lover storing many different kinds of teas.
Eclectic Designs: there is certainly nothing boring about these tins! They each have a bright and unique design.
What We Don't Like:
Designs are Acquired Taste: the designs may not fit in with your personal style or the theme of your kitchen.
Sale
Oggi Tea Container
This tea container is reliable and easy-to-find in your pantry. What more could you ask for?
What We Like:
Durable Silicone Gasket: the silicone gasket on the lid works to keep this container completely airtight. What's more, it is great at keeping external odors away as well.
High Quality Material: made from stainless steel, this is a rather durable container. It is sure to last you a long time.
Large Capacity: if you do need to store a larger amount of tea, then this is the tin that you can use.
What We Don't Like:
Fussy Lid: the lid can be a bit fussy – you have to work to get into place before you can seal the container.
Henry Watson Tea Canister
Want to add a touch of English design to your home? This canister will certainly do the trick.
What We Like:
Air-tight Seal: this comes with an air-tight seal that is cleverly disguised as a beautiful wooden lid.
Gorgeous Design: this canister offers a classic spin on English design. It works well in both a modern and rustic kitchen.
Unique Label: the unique label makes your tea easy to identify while also offering up an interesting aesthetic.
What We Don't Like:
Hefty: this is a rather heavy jar and can be difficult to maneuver around.
ZentealifeCom Tea Canister
If you are looking for something entirely unique and beautiful, you will be happy with this result.
What We Like:
Double Lid Feature: there is an inner and outer lid, affording your tea even more protection against moisture and odors.
Good Capacity: the capacity is just right for someone who is a regular tea drinker, without being too big.
Gorgeous Style: this tea canister is unlike anything you have ever seen before – it doesn't even look like a tea canister. It is lovely, however.
What We Don't Like:
Faded Colors: the colors are more faded than what you are shown, so you should be expecting this discrepancy.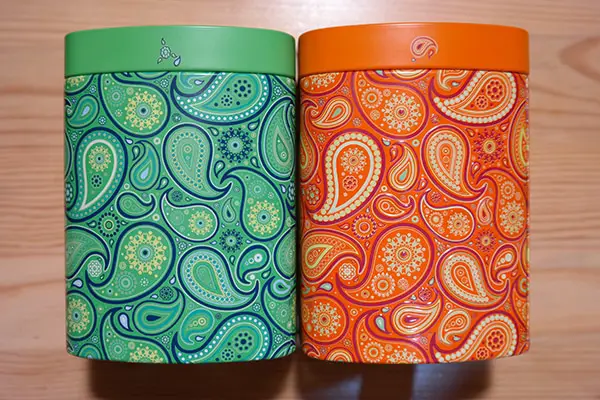 How to Select the Top Loose Leaf Tea Storage Tins and Containers
When selecting tea storage containers, you need to look for the following features:
Non-Reactive Materials
The materials of the canister shouldn't interact with the tea in any way.
Thus, you not all materials will work equally as well.
Focus your attention on non-reactive metals, glass, ceramic, or porcelain.
While some people do enjoy using wooden containers, there is a catch.
Many kinds of wood have their own aromas and they may impart these to the tea.
Tea Canisters with Airtight Features
It has been established that tea leaves need to be locked up tight. As such, an airtight seal is necessary.
Now, this doesn't just mean selecting a canister with a really tight lid.
No, it is also a good idea to look for a container with a food-grade silicone seal.
You may also want to consider a canister or tin with a double lid. 
Opaque Design
Since tea shouldn't be exposed to sunlight, it is important to select an opaque container.
This is especially important if you would like to use a glass jar – it can't be transparent at all.
If there are any transparent components on your tin or container, then you will need to store it in the pantry cupboard.
Wide Opening
As you will need to spoon the tea leaves out of the container, it is best to look for one with a wide opening.
This will make it far easier for you to make your daily cup of tea.
Related Articles
Here's the Dish: All You Need to Know About the Best Tea Cups
The Importance of Storing Tea Properly
You may be wondering why you need to take such care when storing tea.
Well, on average, tea leaves only have between 3 and 5 percent moisture content.
It is this dryness that allows you to store tea leaves for months on end.
At the same time, this low moisture content also makes the tea leaves hydroscopic – they will readily absorb moisture from anywhere that they can find it.
Due to this, the tea leaves must be kept well away from any kind of vapors or moisture.
Adding to this is that tea leaves can lose their flavor and aroma if exposed to the air for too long.
So, for best tasting tea, the leaves need to be stored appropriately.
It should also be noted that tea leaves can be influenced by other scents and aromas.
Thus, if the leaves aren't enclosed properly, the tea will take on these flavors as well. Needless to say, this will alter the taste of the tea.
Tea leaves shouldn't be exposed to sunlight, either.
The light and the heat can cause the leaves to degrade, reducing their flavor profile as well as their health benefits.
As such, the leaves need to be shielded from light as well.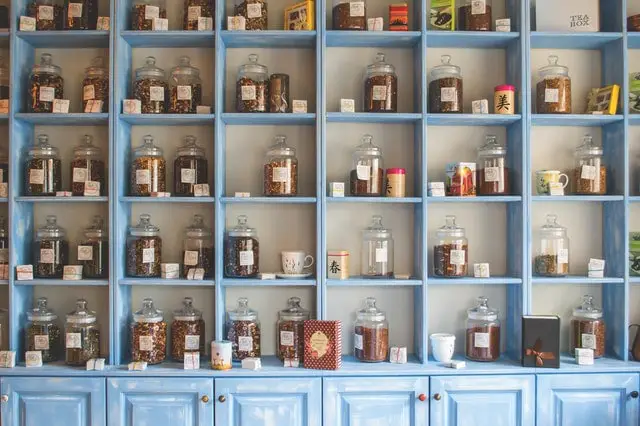 The Best Way to Store Loose Leaf Tea
Here are a few additional tips on storing your tea in loose leaf storage containers:
Always buy and store smaller amounts of tea. This gives you the opportunity to use and enjoy the leaves while they are still fresh.
Nevertheless, make sure to always fill the container close to the brim. This prevents air from getting trapped inside the canister and causing the leaves to degrade.
Last, but not least, make it a point to always tightly replace the lid on any canister that you are using.
If it appears that the lid or seal is compromised in any way, it is time for a new container.
As you can see, there are so many tea tins and containers to select from. It doesn't matter what you are looking for, you are sure to be able to find one that is perfectly suited to your tastes.
If you are planning on buying your own tea tin or canister, make sure to follow the tips and tricks mentioned here. 
Did you like this post? Then, head over to our Pinterest page. We have many more tea-related tool posts for you to go through.