Once upon a time, tea steepers and infusers were a niche. These days, however, they are so many different kinds to choose from.
However, as we quickly learned, not all of these options are equally great at helping you steep your tea leaves.
This is why we took it upon ourselves to find the best tea infuser for tea leaves. Take a look at what we discovered…
Our Picks
What to Look for in the Best Loose Leaf Tea Infuser
No thanks, take me to the Top Tea Infuser Reviews
So how do you separate the great infusers from the mediocre? Well, by knowing what features to look out for, of course.
Here are the main elements that you should be examining when selecting your tea diffusers and infusers: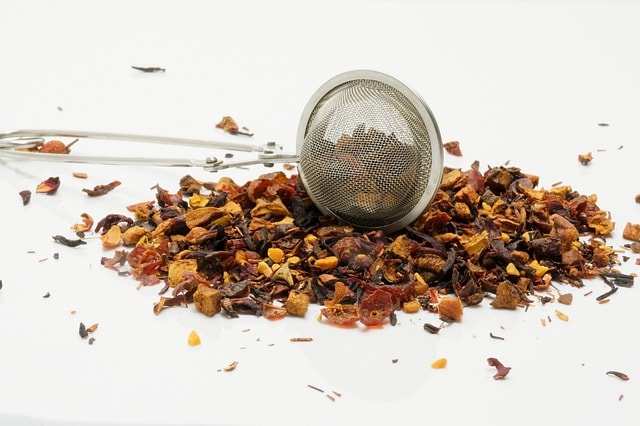 Understanding the Types of Loose Tea Brewers
There are actually three different kinds of tea infusers to select from. The most commonly available options are infuser baskets, metal tea balls, and tea infuser mugs and tumblers.
For the most part, each of these tools performs the same function – they allow you to steep loose tea leaves in water.
This doesn't mean that they are exactly the same, though. Let's see how they are different and determine which option may be right for you:
Tea Infuser Basket
As the name suggests, tea infuser baskets are basket-shaped and are often large enough to brew several cups of tea at once. They are perhaps one of the better options for brewing tea. Keep in mind, loose tea leaves work best when they are allowed to fully unfurl and steep in the water. The large tea infuser basket enhances this action. Thus, you can often end up with a higher-quality brew.
Tea Ball Infuser
This is a smaller, spherical type of infuser. The main advantage behind tea ball infusers is that it is a single cup tea infuser and can be used within a cup rather than a teapot. At the same time, the tea ball has less space within its cavity. Due to this, tea leaves aren't able to unfurl nearly as much as they should.
Tea Infuser Mug and Tumbler
Here, the infuser is built into the mug or tumbler. As such, there is a lot less fuss involved. Tea infuser mugs and tumblers are great for when you are on the go, but still want to enjoy a high-quality cup of tea. The size of the infuser is determined by the overall dimensions of its container.
The Tea Infuser Materials
At one point, you could only find stainless tea infusers. Now, though, silicone infusers are gaining popularity among the masses.
Naturally, you may be wondering: is one better than the other?
Well, there aren't any clear-cut answers here. Much like stainless steel, silicone is resistant to high temperatures and isn't damaged easily.
As such, they work equally well in brewing conditions.
One of the reasons that some people prefer silicone infusers is due to the design. These options often boast bright colors and fun styles. Thus, they can liven up a morning cup of tea.
The Perforations
You are also going to want to examine the size of the perforations on the infuser that you would like to buy.
Ideally, the perforations should be on the smaller side. This reduces the risk of any tea dust or smaller leaves escaping the infuser.
At the same time, you want the concentrated tea solution to diffuse back into the weaker liquid. Thus, the more perforated the sides or the bottom of the infuser is, the better.
Keep in mind, these smaller perforations can make the infusers trickier to clean. Due to this, you do have to thoroughly wash out the items each and every time that you use them.
Secureness
Virtually all tea infusers are made up of two separate parts. This, of course, is that you can open the compartments, deposit the tea leaves inside and then close them back up.
As you can imagine, it is really important for these parts to fit securely together. Otherwise, the tea leaves will end up spilling into the cup, ruining your tea.
So, make sure that you can tightly secure the two halves together. It is a good idea to test the item in water to ensure that it can stay together despite the added pressure of the water.
The Chain
Basket, tea ball, and silicone infusers are equipped with some form of a chain. This, naturally, is so that you can retrieve the infuser once the leaves have been steeped for an appropriate amount of time.
You should check on the length of the chain. In most instances, a longer one is preferred. This way, it can be placed into cups, tumblers, and other items of varying heights and sizes.
Chains that are weighted at the end are also rather useful. Such a feature reduces the chance of the chain slipping back into your tea.
Related Article
Its Chilling Time: Here are the Best Iced Tea Makers for All Your Needs
The Top Tea Infuser Reviews
Now that you know what you should be looking for, let's move onto discovering what the best tea infuser for loose leaves is!
Best Tea Infuser Baskets – Best for Superior Brews
Let's begin with tea infuser baskets. These are the top contenders, regardless of which category you are searching for…
Premium Pick
FORLIFE CAPSULE INFUSER
If you are someone who enjoys brewing tea for a larger group of people, then you will certainly enjoy this design.This fine mesh tea infuser will be a good addition to a more experienced tea drinker's brewing kit.
What We Like:
Accommodates All Varieties of Tea: the large size of the infuser means that you can use it for small or long tea leaves. This gives you the opportunity to brew with different kinds of tea leaves. It is also good for brewing larger batches of tea.
Good Mesh Design: while the holes are rather small in this infuser, there are many of them. Thus, the tea is allowed to properly diffuse without running the risk of depositing any dust in the brew.
Looks Sophisticated: in addition to being constructed from high-quality material, this tea infuser has a nice design, making it perfect for serving at tea parties. 
What We Don't Like:
Tricky Lid: this infuser has a rather tricky lid. Thus, it is going to take you a while to get used to fixing or taking the lid off of the bottom portion of the basket.
Value Pick
MESHBERRY LOOSE TEA INFUSER
This Meshberry tea infuser proves that you don't have to always spend a lot of money to get a decent quality product. With its size and design, this is an infuser that does offer quite a bit of value.
What We Like:
Versatile Size: despite being an infuser basket, this item is a bit on the smaller side – although not that much. The advantage of this is that the basket fits into a greater number of beverage vessels.
Good for Brewing: the basket is large enough to allow the tea leaves to unfurl, while the perforations allow for maximum dispersion of the tea.
Useful Tray: there is a small tray that you can place your used infuser onto so that you don't make a mess.
What We Don't Like:
A Little Flimsy: the stainless steel is quite thin so you do have to be careful when using it or it may get dented.
Our Pick
APACE LOOSE TEA INFUSER
This infuser leads the charge when it comes to quality and design. Whether you are an experienced loose leaf tea drinker or a novice, you will find this infuser the perfect accompaniment to your brew.The large size ensures that you can brew for a larger crowd or use larger tea leaves for your cup.
What We Like:
Designed for Multiple Tea Varieties: the perforations on the tea allow for true teas, herbal teas, and even other kinds of brews to be made. Thus, you have more options to choose from when selecting leaves.
Maintains Taste of Brew: the stainless steel has been designed to prevent any type of leaching. Due to this, the taste of the tea remains true to its leaves and quality.
Excellent Quality: the material is incredibly high-quality, ensuring that it is built to last. There is a much lower chance of this infuser rusting, denting, or becoming damaged in any other way.
What We Don't Like:
Not Suitable for Finer Leaves: if your tea leaves are of medium grind or larger, then you will be fine. However, we found that small particles of dust did slip through on occasion.
Best Tea Ball Infuser
Now let's move onto the ever-popular tea ball infusers!
Premium Pick
OXO BREW TWISTING TEA BALL INFUSER
This OXO tea ball infuser is certainly an innovative design and it makes it a great deal easier for you to make your daily brew.Overall, this is one of the top tea ball infusers on the market.
What We Like:
Easy to Fill and Empty: you can use the tea ball to scoop up your tea leaves in just a second. Due to the opening mechanism, you can also dump out your tea leaves once you are done with them without any hassle at all.
Simple Steeping Technique: rather than a chain, this tea ball infuser relies on a long handle. As such, it is a great deal easier to place the infuser inside, keep it steady, and remove it from the cup.  
Easy to Clean: this is an incredibly easy utensil to keep clean. This ensures that your tea can be brewed freshly without any residual flavor.
What We Don't Like:
Best for Larger Leaves: this infuser works best with larger particles so you shouldn't use it with any kind of tea that contains smaller particles such as dust.
Our Pick
OXO BREW TWISTING TEA BALL INFUSER
Now, you will have noticed that Our Pick is the same as the Premium Pick – so, what gives? Well, we really do feel that this is one of the best tea ball infusers on the market.
Let's face it, most tea ball infusers are very fiddly to fill and clean out. With this one, though, you can start brewing your cup of tea within moments.
Sure, it isn't perfect and it doesn't work with all kinds of tea. However, we feel like the upsides more than make up for the minor flaws in the design. 
Value Pick
HIC TEA BALL INFUSER
In many ways, this HIC tea ball infuser will remind you of stainless steel tea strainers. However, it functions as a tea ball would.This tea ball is quite easy to use and fits into a wide variety of mugs.
What We Like:
Good Diffusion Action: the perforations on this tea infuser are excellent for allowing concentrated liquid to diffuse out. This is true even if the tea ball is stuffed full of leaves. So, you can brew a much better cup of tea.
Easy to Keep Upright: The design of the tea ball ensures that you don't have to worry about it falling into your drink even when you leave it unattended.
Smooth Movement: the smooth opening and closing movement of the tea ball makes it a great deal simpler to use.
What We Don't Like:
Filling Can Be Tricky: It can be a little difficult to keep the tea infuser open while simultaneously filling it with tea leaves. This will take some practice to master.
Best Silicone Tea Infusers
Here are the top contenders for the best silicone tea infusers.
Premium Pick
OTOTO BABY NESSIE TEA INFUSER
There is no denying that this is a cute tea infuser! So, if you have a whimsical side and would like to brighten up your tea making process, this is the way to go. Now, this infuser isn't just pretty to look at it – it also ensures that you are able to steep your tea leaves well too.
What We Like:
Good Dimensions: the area that holds the tea leaves is surprisingly large. Due to this, the leaves have more space to unfurl and produce a more full-bodied cup of tea. As a result, this tea infuser functions rather well.
Well-Designed: in addition to having a long "neck" that sticks out of the cup, the tea infuser also comes equipped with small "feet". Therefore, it can easily rest on the bottom surface, ensuring maximum stability.
High-Quality Materials: the silicone is high-grade and designed to be used for food. Not only is it safe, but it can also last you a long time. 
What We Don't Like:
Slightly Larger Perforations: now the holes are a little on the bigger side which means that this tea infuser isn't suitable for very fine teas.
Value Pick
Sale
FINEGOOD TEA INFUSER
Do you miss tea bags, but don't want to ingest plastic particles every time you use them? If so, these tea infusers are the perfect compromise. Furthermore, as they are reusable, they are also a great deal more environmentally friendly than traditional options.
What We Like:
Flexible Design: the flexible nature of the silicone allows you to pack more tea leaves. As the packaging can expand, this still allows for a tasty brew.
Good Seal: this infuser can be sealed very tightly. Therefore, you don't have to worry about your tea leaves spilling into your drink.
Distinguishing Tags: the bags are individually colored. This comes in quite handy if you have many tea drinkers in your household.
What We Don't Like:
Tricky to Clean:

the design of the tea bags does mean that it can take some effort to get them completely clean.
Our Pick
Sale
FRED & FRIENDS MR. TEA - TEA INFUSER
If you want to make the process easy every time you make tea, this is the infuser to do this.You don't need to worry that it is just all about design, though. This infuser makes a pretty good cup of tea as well.
What We Like:
Good Sized Well: the well is actually rather large which means that the tea leaves can diffuse a lot better. Thus, this infuser works well even for more serious tea drinkers.
Functional Hook Design: this tea infuser can easily be hooked onto the rim of your cup, ensuring that it doesn't budge at all while the tea is diffusing.
Easy to Clean: the design of the infuser makes it quite easy to clean out. This allows you to brew all types of tea with it without needing to worry about any cross-contamination with taste.
What We Don't Like:
Not Suitable for Taller Cups: the hook design does have a flaw – it doesn't work well with taller cups or mugs. You have to fill the cup all the way up to the brim for the best results.
Best Tea Infuser Mugs and Tumblers – Best for Travel
These are the best tea infuser travel mugs and tumblers for when you are on the go.
Premium Pick.
Sale
PURE ZEN TEA TUMBLER WITH INFFUSER
If you want to sip from a freshly but professionally brewed cup of tea at work, then this is a great option for you.In fact, it is as close to a real tea infuser basket as you can get.
What We Like:
Sophisticated Design: this is a tea infuser tumbler that will not look out of place at your office. The clean lines and sophisticated design allow you to carry it anywhere.
Large Space for Leaves: the space for tea leaves is quite large. This gives you the chance to use all kinds of tea leaves. What's more, it allows for better unfurling as well.
Good Perforation Design: the perforations ensure that everything except for the tiniest of tea dust particles is kept out of your brew.
What We Don't Like:
Can't Handle Very High Temperatures: you do have to be careful about pouring in very hot water. The glass isn't always capable of managing those kinds of temperatures.
Value Pick
ENINDEL TEA INFUSER
Do you want a heavy-duty tea infuser that will keep your tea delicious for longer? If so, you will find that this budget-friendly version serves you well.
What We Like:
Can See Steeping: you can see just how well your tea is seeping through the transparent glass. As such, you will be able to easily tell when it is done.  
Leak-Proof: now, this doesn't just refer to the fact that there won't be any tea spills. The design of this infuser ensures that the tea leaves stay trapped in the infuser by a tightly shut lid on top.
Safe for Hot water: when you are on the go, you can't afford any accidents. Well, this tea infuser can hold liquids of all temperatures, making it very safe to use.
What We Don't Like:
Tricky to Hold: when your tea is quite warm, this mug can be tricky to hold. Thus, you do need to be a little careful.  
Our Pick
Sale
TEABLOOM TEA INFUSER
The TeaBloom infuser is more than just a pretty travel tumbler, it also allows you to enjoy your tea at the perfect concentration and temperature.It works well in most situations. 
What We Like:
A Good Infuser Well: the size of the well is great in correlation to that of the tumbler. So, you can place your tea leaves and ensure a drink that has the perfect strength and taste.
Infuser and Strainer: the infuser is further backed up by a strainer. As a result, you can be certain that not even fine dust will be making its way into your brew.
Highly Insulating: the double-walled glass insulates your tea incredibly well. There is also an additional sleeve if you need to keep your drink at an optimal temperature for longer.
What We Don't Like:
Interior Wall is Delicate: the interior glass wall can shatter. Therefore, you do have to be careful about how you move around with this tumbler.
This concludes our look at the best tea infusers on the market.