The concept of tea cup can seem a little old-fashioned – or very British.
However, if you do want to enjoy tea properly, then good tea cups are in order.
This is especially true if you are entertaining or hosting a tea party.
If you need some help in locating the very best tea cups around, here is your guide: 
Tea Cup vs. Tea Mug
The first thing that you need to distinguish here is the difference between tea cups and tea mugs.
The main variation is probably in size – tea cups are smaller, more delicate looking.
Mugs, on the other hand, have been designed to hold a greater amount of liquid.
It should also be noted that mugs aren't really used in formal settings, but tea cups are.
Tea Cup vs. Coffee Cup
What isn't as easy to figure out is the disparity between tea cups and coffee cups.
After all, they do look quite similar, even identical to the untrained eye.
Traditionally, tea cups are shorter and wider than coffee cups.
They have a flared rim that protrudes outward.
Coffee cups will also have a more cylindrical shape and are taller than they are wider.   
Types of Tea Cups
Tea cups tend to be categorized according to the materials that they are made of.
Now, as you are aware, tea cups can be made from a wide variety of materials.
These are the most common options: 
Ceramics
There is some confusion regarding ceramic tea cups.
Traditionally, ceramic has referred to clay-based dinnerware.
The term technically describes clay pottery that is made in kilns.
However, more often than not, it is used interchangeably with the other terms. This includes earthenware, stoneware, and porcelain.
This is because these materials fall under the category of ceramics.
On average, ceramic tea cups retain heat for longer and don't leach any tastes into your tea. 
Earthenware
This is the least expensive kind of tea cup.
These tea cups have more heft to them and tend to have a more rustic feel.
As earthenware is quite porous, though, it may impact the overall flavor of the tea.
This material is also not very durable and is prone to chipping.
Stoneware
Stoneware tea cups are stronger than ones made from earthenware.
They are also quite easy to maintain.
More often than note, stoneware tea cups are better suited to more casual functions.
China or Porcelain
Porcelain, also known as china, are made from fine-particle clay.
It is quite durable and non-porous.
As the structure of china tea cups are thinner, it is easier for creators to inscribe beautiful designs on them.
These tea cups can be used for casual or semi-formal occasions. 
Bone China
These tea cups tend to be the most expensive by far.
Although they are quite similar to china tea cups, these contain an added ingredient – bone ash.
These tea cups feel quite delicate and are also rather lightweight. Despite this, they can be rather durable.
Bone china tea cups instantly add an air of sophistication and elegance to any occasion.
Due to this, they are practically required at formal occasions.
Related Articles
Pick Your Pot: The Best Tea Tins and Containers
Expensive vs. Cheap Tea Cups – Do You Need to Splurge?
One of the questions that you may be asking yourself is whether or not it is necessary to invest in a more expensive tea cup set.
Is there an actual difference between regular glass tea cups and ones made from china, for instance?
Well, it may be a good idea to splurge at least a little.
This is because British scientists claim that tea does taste better in china tea cups.
The reasoning behind this is that the tannins are less likely to stick to the smooth surface of these cups.
There is also the fact that more expensive options tend to offer more attractive designs.
Of course, this doesn't mean that you need to buy an outrageously expensive design.
Instead, you may want to opt for a mid-range set.
Tips for Choosing the Best Tea Set Brands
Here are some guidelines to keep in mind when looking around for tea cups:
Non-Porous Materials
Naturally, you don't have to select ceramic, china, or bone china tea cups. You may wish to choose tea cups made from a different material.
If you do, though, make it a point to check that the material is completely non-porous.
This way, you can prevent the material from having any kind of impact on the taste of your tea. 
Durability
In case you are planning on investing in a good tea cup set, it is important to pick one that can last a while.
Keep in mind, some china and bone china sets can be passed down from one generation to another.
Thus, it is well worth it to determine how sturdy a particular set is. 
Classic, Beautiful Tea Cups
You are definitely going to want to select a beautiful set.
Nevertheless, you should be mindful of the kind of design that you are selecting.
This is especially true if you are planning on investing in a set that can be used for years and years.
You may want to shy away from trendy designs. While these look good now, they may not stand the test of time.
As such, the set could end up looking gaudy or dated after a while.
It is far better to consider something simple and classic. This way, the set will be suitable for all occasions and generations.
In case you are selecting a set that isn't meant to last as long, of course, this doesn't matter as much. Thus, you can choose any design that you wish.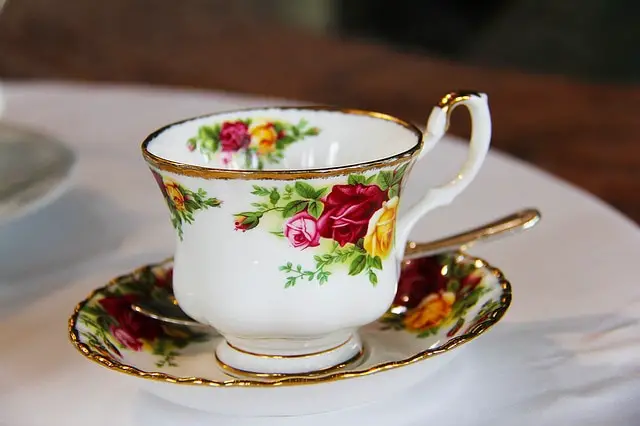 Simple Use and Maintenance
Modern tea cup sets are a little bit more versatile than their antique counterparts. 
As a result, you can find ones that are a little more fuss-free.
If you want tea cups that are easy to reheat, look for ones that are microwave-friendly.
Don't want to spend ages scrubbing out your tea cup set? Find ones that can be cleaned in a dishwasher. 
Best Tea Cup Sets
Now, let's take a look at the best tea cup brands available:
Sale
Royal Albert Old Country Roses Tea Cup Set
If you want to experience a proper English tea, then this is the set that you need. It is sure to brighten up and elevate any tea party.
What We Like:
Quaint Design: the design is based off on an English garden and is truly stunning. The vibrant florals are offset by a white background and lustrous gold banding.
High Quality Work: the cups are made from pristine white bone china and the trim contains 22-carat gold. All in all, it is as elegant as it looks.
A Full Set: in addition to tea cups and saucers, this set comes with a tray as well. This helps to round out it all out and create a more cohesive effect.
What We Don't Like:
Must Be Delicately Handled: the set must be hand-washed as it can't be placed in a dishwasher. It also shouldn't be placed in the microwave either.
Brew to a Tea Tea Cup Set
If you are someone who enjoys an eclectic but cohesive theme, then you will love how these tea cups look together.
What We Like:
Interesting Design: what's great about these tea cups is that each one bears a unique design and color. At the same time, they have been designed to work well together and don't look out of place at all.
Good Quality Materials: the cups are made from bone china and contains a 10-carat gold trim. This is wonderful quality for the price that you are paying.
Good Capacity: each tea cup holds eight ounces, ensuring that you are able to pour yourself more tea with each serving.
What We Don't Like:
Heftier Than Traditional Cups: despite being made from bone china, these tea cups look and feel heavier than typical cups.
Sale
Gracie China by Coastline Imports Tea Cup Set
If you want a tea cup set that is a throwback to a bygone era, then you will be thrilled by the intricate design of this set.
What We Like:
Classic Design: this tea cup set really does like something from the past. However, it doesn't look dated at all – instead it is a perfect fit for both casual and formal settings.
Fine Porcelain Composition: these tea cups are made from fine porcelain and are complete with a beautiful gold trim. 
Easy Maintenance: the tea cups are dishwasher friendly, making them quite easy to clean.
What We Don't Like:
Can Be Delicate: these tea cups must be handled delicately. Otherwise, there is a chance they may begin to chip.
Sale
Eileen's Reserve Tea Cup Set
If you want something that straddles between classic and cool, then these are the tea cups for you.
What We Like:
Lovely Design: despite having a floral design, this tea set isn't old-fashioned at all. Rather, the flowers offer up a modern and interesting edge to these tea cups.
Good Quality: the tea cups are made from a new kind of bone ash porcelain, providing you with great quality a lower cost.
Durable: these tea cups are quite durable and can even be placed in the dishwasher. There's no need to worry about chipping or cracking.
What We Don't Like:
Smaller Capacity: these tea cups are smaller and may not be able to hold as much tea as you would like.
Sale
Lenox Meadow Tea Cup
If you are looking for something a little sweet and delicate, then this tea cup set is sure to fit the bill.
What We Like:
Whimsical Design: the design of this tea cup is quite whimsical. It is also great if you like patterns but don't want anything too bold or over-the-top.
High Quality: the tea cups are made from high-quality porcelain. As such, you guarantee that these tea cups will last you quite a while, especially if you take good care of them.
Good Capacity: the tea cups aren't just for show – they can easily contain as much tea as you need them to. As such, they are great for daily use. 
What We Don't Like:
Pricey: these cups and saucers are sold in singular packages. Thus, ordering a greater number of matching pieces may be on the expensive side.
Jusalpha Fine China Tea Cup Set
If you prefer a simple set that is still quite elegant, then this set fits the bill perfectly.
What We Like:
Subtle Design: these tea cup set is available in a delicate blue, yellow, purple, or pink shade. Although it is simple, the design and the gold trim help to add a sense of sophistication.
Made from Fine China: made from fine china, these tea cups are equal parts high quality and durable. They are a great addition to any collection.
Simple Maintenance: these tea cups are quite easy to maintain. They are dishwasher-friendly and are a breeze to clean.
What We Don't Like:
Smaller Capacity: these tea cups do have a smaller capacity and better for formal occasions rather an everyday cup of tea.
Here are the best tea cups that you can use to start or add to your collection. It doesn't matter whether you are a novice or an expert in this department as these stunning cups will be well-suited to virtually anyone.
If you are planning on selecting your own tea cups, make sure to heed the advice provided here. You will then be able to select something that is as beautiful as it is durable.
Did you enjoy this post? If so, head over to our Pinterest page. We lots of other information regarding tea tools and how they can be used to provide you with a better brew.