The best bubble tea flavors are QBubble Taro, GreenMax Milk Tea, Buddha Bubbles Strawberry, and Tea Zone Honeydew.
I discovered boba on my travels and was fortunate enough to try lots of regular and unusual flavors. I decided to share the best and tastiest options for you.
In this post, I will show you the top flavors as well as provide you with a little more background information on boba. Let's begin!
The Best Boba Tea Flavors
Now, let's take a look at the top bubble tea flavors you can indulge in:
QBubble Tea Taro Powder
The QBubble Tea brand is exclusively involved in bubble tea products. Due to this, it is no surprise that this boba tastes so good!
What We Like:
Good Taste: this is a delicious mix and gets the taro just right. You can add as little or as much as you want to alter the strength of the taro taste.
Creamy: one of the hallmarks of taro is its creaminess. While you don't get the same texture as with taro root, this powder does add enough depth to be as close to the real deal as possible.
Easy to Use: this taro powder is incredibly easy to mix whether you are combining it with water or milk.
What We Don't Like:
Processed Powder: this is a taro flavored powder instead of an actual powdered taro root. Thus, if you are looking for an authentic taste, you may need to look elsewhere.
Sale
GreenMax Milk Tea Powder
If you are looking for an easier way to make your bubble tea, this brand will work well for you.
What We Like:
Includes Black Tea: this mix already contains black tea. Thus, all you have to do is mix it with water and it's ready to drink. It is quite easy to make boba with this brand.
Pleasant Flavor: this drink boasts a balanced flavor between the milk and the tea, ensuring that it is just right.
Authentic: this mix is a product of Taiwan, making it more authentic than some of the other brands.
What We Don't Like:
High Sugar Content: there is quite a bit of sugar in every serving. Not only can this make the drink high in calories, but it may also prove to be too sweet for some.
Buddha Bubbles Boba Strawberry Cream Powder
If you are looking for good taste and texture for your boba, this brand ticks all the right boxes.
What We Like:
3-in-1 Mix: this mix contains flavoring, creamer, and sugar creating a more robust texture and ensuring that you only have to add tea to the mix.
Great Taste: this offers a sweet and creamy flavor, staying true to its name. Thus, you get a refreshing burst of the strawberry combined with a milky flavor as well.
Blends Well: this powder blends up easily, even with cold water or milk, allowing you to make bubble tea all that much faster.
What We Don't Like:
Requires Larger Serving: you need to use more than recommended to get the desired taste from this mix.
What We Like:
Contains Honeydew Powder: this mix contains real honeydew powder. This makes it quite superior to many other mixes as they all contain processed flavors.
Wonderful Taste: in addition to the authentic honeydew taste, you also get a great texture and creaminess with this mix.
Long Shelf Life: if stored properly, this mix can last for months at a time.
What We Don't Like:
Not Very Cost-Effective: this container only has 10 servings which isn't great if you like to enjoy boba regularly.
The Most Popular Bubble Tea Flavors
If you are new to the boba scene, you may be wondering what flavors to try. Well, that all depends on your personal preferences.
If you tend to enjoy sweet, creamy drinks, then a milk-based beverage will do the trick. On the other hand, if you prefer something light and refreshing, opt for a fruit-based tea.
Here are some of the more popular options for each of these:
Best Milk Tea Boba Flavors
Milk Black Tea: this is considered to be an original flavor. It is simply brewed black tea mixed with sweetened milk. It is a great introduction to the world of bubble tea.
Thai Iced Tea: this tea is made with condensed milk and is slightly spiced as well. It is suitable for anyone who wants to go beyond the original flavor but still wants to stick with something familiar.
Taro Tea: this uses taro as a base and this drink often turns the tea a purple color. The taro bubble tea taste is an interesting one – it is slightly nutty and very creamy.
Honeydew: this drink offers the best of both worlds – milk tea and fruit ones. It is refreshing and sweet, perfect for summer days.
Best Fruit-Based Boba Flavors
Peach
Strawberry
Mango
Lemon
Lychee
How to Make Bubble Tea
More and more people are now making bubble tea at home. After all, indulging in this treat too often can leave your wallet rather light.
Not to mention, when you make boba yourself, you have greater control over the ingredients, ensuring that it results in a healthier drink.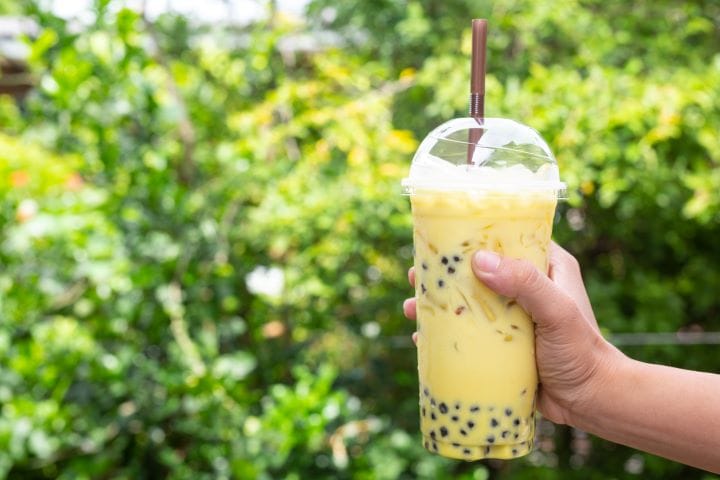 What You Will Need
To make boba, you will need the following:
Brewed tea of choice
Flavoring/Creamer Mix
Sugar to taste
Ice
Hydrated tapioca pearls in sugar syrup
The Method
Step 1
Combined the brew tea and creamer or flavoring. Add sugar if needed and mix well.
Step 2
Pour the drink over ice, cover, and shake until the drink has cooled.
Step 3
Pour the tapioca pearls into a cup and pour the drink over it.
Related Article
One List to Brew Them All: 50 Delightful Tea Recipes to Try
The History of Bubble Tea – Where Did It All Begin?
Of course, the first thing you need to know about boba is where it originated from. Though most people assume it was created in Asia, few know where it all began.
Bubble tea was first created in Taiwan. While there are many rumors about who invented boba, no one knows the answer for certain.
However, it is a widely accepted fact that Liu Han-Chieh and Lin Hsiu Hui of the Chun Shui Tang teahouse came up with the drink in the 1980s.
The rest, as they say, is history.
The Globalization of Bubble Tea
Considering its humble beginnings, how did bubble tea become a global hit?
Well, this drink did garner some popularity in neighboring countries. What really propelled boba to new heights was the bubble tea craze in the US.
Boba was already a common drink in the Taiwanese-American community, having immigrated along with the people of Taiwan.
It was a fad on the West Coast way back in the 90s. With time, it spread to the rest of the regions, picking up a fervor as it went.
What cemented the staying power of boba, though, was its ability to innovate and adapt. These days, the flavors and drinks have little in common with the original beverage.
Instead, the drink has been altered to meet modern standards and continues to do so to remain relevant.
What is Boba?
As the name suggests, bubble tea is a tea-based beverage. The most common base is black tea, but it isn't unusual to find drinks with green or oolong tea.
There are technically two forms of boba – these are milk-based or fruit-based drinks.
With milk-based bubble tea, the tea is combined with milk, flavored powder, creamer, sweetener, and ice.
For the fruit-based drink, the tea is mixed with either fresh fruits or fruit syrup, and ice.
Now, the reason that bubble tea is known as such is due to the "bubbles" at the bottom of every drink.
Typically, these bubbles are made from tapioca. Still, these days, they can be made from aloe, green tea, taro, jelly, and any other type of edible ingredients.
So, there it is – all the best boba flavors for your bubble tea. Plus, we allowed you to dig a little into the history of the drink too! Regardless of whether you are new to this topic or not, you are guaranteed to have learned something today.
With this information, you will find it quite easy to enjoy this delicious beverage within the comfort of your home. You can also experiment with various flavors!
Did you enjoy this post? If so, head over to our Pinterest page to find more yummy pins about bubble tea. You will turn into a boba connoisseur in no time at all.